Bring Back the Mile: 5 Questions with Ryan Lamppa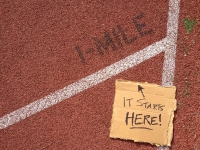 May 22, 2014
The Mile is American as baseball, apple pie and the 4th of July and there is not an American boy that dreams of breaking 4 minutes in the 1600
By Caitlyn Pilkington, Competitor.com
In January 2012, Running USA's Ryan Lamppa launched the Bring Back the Mile (BBTM) campaign with the mission to "return the Mile to prominence on the American sports and cultural landscape by elevating and celebrating the Mile to create a national movement." Why? Because the Mile still matters, and so does the history behind it.
Over the last two-plus years, BBTM has reached high school athletes and professional and recreational runners nationwide, bringing increased awareness to the storied 1609m distance. The BBTM movement also brings attention to famed Milers, including Jim Ryun, who in 1964 became the first high schooler to run under 4 minutes in the Mile.
On June 5, Lamppa and other BBTM supporters will gather at Balboa Stadium in San Diego for the Festival of Miles to celebrate the 50th anniversary of Ryun's feat. We caught up with Lamppa leading up to the event and asked a few questions about the campaign, its mission, why it matters and their new sponsor, Hoka One One.
In your own words, why is the Mile "America's Distance?"
The Mile—upper and lower case—is America's distance because, more than any other country, the Mile is still deeply embedded in American culture and history. We race the Mile more than any other country. Our signs and odometers are in miles. We think, speak and relate in miles, not kilometers. For example, in this country, how often after a run or race are you asked your kilometer pace? You are asked, what was your Mile pace?
In addition, unlike other countries, we have not gone fully metric and probably won't—at least not any time soon. Why? Because Americans understand, at least at a subconscious level, that the Mile makes us, well, Americans. It's as American as baseball, apple pie and the 4th of July!
Continue reading at: http://running.competitor.com