Centrowitz, Lagat, Rollins Added to Camel City Elite 2016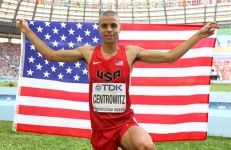 December 09, 2015
$60,000 prize purse offered plus facility bonuses; 4th edition to be streamed live online
WINSTON-SALEM, N.C. – JDL Fast Track continues to add some of the top athletes in the world to the list of those coming to Winston-Salem to compete in the fourth edition of Camel City Elite on Saturday, January 30, 2016.
"Camel City Elite already had Symmonds, Manzano, Rowbury, Oliver, Eaton, Theisen-Eaton on the roster, so to add these three new ones is incredible and takes the event to yet another level," said facility director Craig Longhurst.
The first addition is Brianna Rollins of Nike, who will be running the Champion 60m Hurdles. Rollins is the 2013 IAAF World Champion in the 100m hurdles and also owns the U.S. record in that event (12.26). "Brianna's personal best is faster than our facility record, which is impressive considering our facility record was set last year by someone who had the #1 time in the world later that year at 100m hurdles."
The next addition is Matthew Centrowitz of Nike Oregon Project. Centrowitz, 26, will be running the Camel City Mile presented by Champion. Centrowitz was a member of the 2012 Olympic team at 1500m. He is also a two-time IAAF World Championships medalist in that event, winning the bronze medal at the 2011 meet and a silver medal at the 2013 edition. Centrowitz owns a Mile personal record of 3:50.53. "Just when I thought our Mile field couldn't get any deeper, we pick up another World medalist. Centrowitz brings a fire and swagger to the sport that excites fans, and I can't wait to watch him compete at our facility."
Finally, the most recent additions includes Bernard Lagat, who also runs for Nike. He will take part in the Camel City 3000m presented by Salem Sports. Lagat's accolades are long and impressive. Lagat has been a member of four Olympic teams, winning a bronze medal at 1500m in 2000 and a silver medal in 2004. He is also a 5-time World champion, winning three titles indoors and two titles outdoors. Lagat, who will be 41 at the time of the event, is re-writing the record books after setting six Masters world records in 2015: indoor Mile, indoor 3000, indoor two Mile, road 10K, outdoor 1500 and outdoor 5000.
"Not only is Bernard a great athlete, but from every source I've spoken with, he is one of the great ambassadors of the sport. We think he will be a great addition to the meet and for the community outreach program we will be conducting at Brunson Elementary."
Camel City Elite will be held at JDL Fast Track (2505 Empire Drive) on Saturday, January 30 at 2:00pm. Tickets will be on sale at the door at a cost of $10 for adults and $8 for students 12 and older. Kids under 12 are free. The event will also be streamed live online at www.jdlfasttrack.com as part of the RunnerSpace+Plus subscription package which starts at $12 a month. In addition, since 2013, the meet has been part of the Bring Back the Mile national campaign to promote and celebrate the storied distance.
There are also crowd funding options for spectators who wish to get exclusive infield passes to the event or to attend the post-race party and have dinner with the elite athletes in attendance. More information on the crowd fund or corporate sponsorships can be found at http://www.jdlfasttrack.com or by, contacting Craig Longhurst directly via email at craig@jdlcastlecorp.com.
ABOUT JDL FAST TRACK
JDL Fast Track is a privately owned facility that is quickly becoming one of the premier indoor track & field venues in the southeast. Opened in 2012,

the facility houses a 200-meter oval track with a Mondotrack FTX surface—the same surface used at the 2012 Olympic Games in London. With a seating capacity of 1,700, ten HD televisions showing real-time event results, and five high definition projector screens for video playback, JDL Fast Track offers fans a unique track and field experience.
To-date, JDL Fast Track has hosted three national championships: 2014 NCAA Division II, 2015 NCAA Division III and 2015 USATF Masters Indoor. In March, JDL Fast Track will serve as the host for the NJCAA Indoor Track & Field Championships.