Confessions of a Rookie Race Director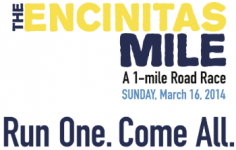 March 27, 2014
All the planning, preparation and double-checking set the stage for the race, but the event itself was created by everyone who showed up to run or to cheer the runners on, bringing a plan on paper to life.
By Daniel Seidel, Encinitas Mile
After running in more than 100 races over the last 10 years or so, the pre-race nerves now hit me at discreet and brief intervals. They usually disappear when the routine kicks in — pinning on the bib to my singlet (starting at the lower-left corner and moving counterclockwise), doing drills and strides, shaking out the lower legs as if an army of ants has just crawled up them, breathing deeply, retreating inside myself just before the gun goes off.
No such routine was available to me two weeks ago, however. I was the race director for an inaugural road event, the Encinitas Mile, that my co-founder Mark Sarno and I had worked on for more than a year. Shortly before the first heat of the day, the kids race, I looked over toward the start line, where the American Mile legend Steve Scott, who clocked a mind-boggling 137 sub-4 minute Miles during his career, was giving advice to the youngsters about not going out too fast. Pace yourselves, he was saying. It's good advice whether you're running a race or organizing one, and it momentarily calmed me down. Then the race announcer gave the start command, the kids tore off (most of them ignoring Scott's advice), and the next two hours of heats flew by at a similar breakneck speed.
A year of planning, and it was all over in two hours. That is the strange equation of race directing.
Given the proliferation of races and the "professionalization" of race management, there are now explicit guidelines, best practices, race-director certification courses­­­­ — even books. Road Race Management's Organizing Running Events: The Complete Guide to Staging a Successful Road Race proved particularly helpful. Its first chapter, titled "Taking the Plunge," does contain an ominous analogy, though: "A road race can be a little like a hole in the ankle of your running sock — at first you barely notice a rub, but over time it evolves into a pulsating blister."
Continue reading at: http://running.competitor.com