Elite Athlete Spotlight - Garrett Heath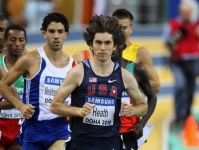 April 26, 2013
Joey Lamar, USA Track & Field
Garrett Heath's lime-green shoes pounded the pavement toward the finish line in the last 100 meters. But Leo Manzano, the 2012 Olympic 1500-meter silver medalist, and 2011 USA Indoor Mile champion Jeff See stood in the way.
The three ran so close together they looked like a brick wall coming down the open street in the last 50 meters. Overcast skies, cold temperatures and strong winds were unseen hurdles slowing the pace. Heath sought to speed up the pace.
The wall started crumbling with 25 meters remaining. Heath pulled ahead by the slimmest margin. Manzano and See ran inches behind him, but Heath kept sprinting.
"I could feel (Manzano and See) right there on me," said Heath. "At that point in the race, everyone is trying to gauge their effort to make it to the line first."
Continue reading at: usatf.org