Elites Gear Up for San Diego's ElliptiGO Mile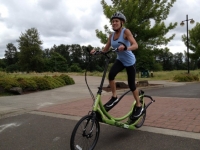 June 04, 2014
The San Diego event will commemorate the 50th anniversary of Jim Ryun's sub-4-minute Mile performance
By Caitlyn Pilkington, Competitor Magazine
Mary Decker Slaney, Jearl Miles-Clark, Darcy Arreola Lange and Julia Stamps Mallon will go head-to-head on Thursday evening in the ElliptiGO Mile as part of the Festival of Miles event at Balboa Stadium in San Diego. Fueled by impressive resumes covering the last 30-plus years of professional track competition, the four athletes will cover four laps around the track as part of an evening celebration of Jim Ryun's sub-4-minute Mile performance on June 5, 1964.
"Although the ElliptiGO is best known for endurance and long-distance athletes, such as Meb, there are actually a bunch of 800-meter and 1,500-meter runners who use the GO, such as Shannon Rowbury, Alysia Montano and Geena Gall-Lara," say Bryce Whiting, the chief enthusiast at ElliptiGO. "You can use the GO for speed work and hill repeats."
Decker Slaney, gold medalist in the 1500 meters and 3000 meters at the 1983 World Championships and current AR holder in the 1500 meters, Mile, 2000 meters and 3000 meters, turned to the ElliptiGO in 2012 after a slew of injuries and was "all smiles," says Whiting. "She could go fast again and get that endorphin rush." Slaney placed second in the ElliptiGO World Championships later that year.
Continue reading at: running.competitor.com