Sub-4 minutes the goal at Lodi Mile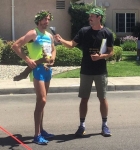 August 08, 2018
"It's a chess match out there as to who's going to do what, because the ultimate goal is to win the race."
By David Witte, News-Sentinel, Sports Editor
For five years, Jeff Merrill has hoped to see a sub-4 minute Mile run in Lodi. With the sixth annual Lodi Mile coming up on Sunday, Aug. 12, Merrill grows hopeful again.
"They've been so close in years past. Can anybody do it in Lodi now? That's the challenge. These are competitive guys," Merrill said. "Nobody's done it in San Joaquin County since Don Bowden in 1956 at UOP, and that was the first time an American hit it. Regardless, it will be a good race."
For the second year in a row, the Lodi Mile will take place at Hutchins Street Square, which saw Stanford alumnus Garrett Heath come close with a 4 minute, 1-second run in 2017.
"We like that as our new home," Merrill said. "We had some fast times there last year, so we'll see if they can dip under that. The female winner set the race and course record last year at 4:38."
The men's and women's Elite races, which attract professional runners, have a $200 bonus for breaking the 4 minute Mile in the men's race and 4:32 in the women's race. Leah O'Connor, a former NCAA champion from Michigan State, came the closest in the women's race at 4:38.
"That's roughly the equivalent for women. That will probably be debated by some people out there," Merrill said. "The women's field, we're lucky enough to have Kim Conley out there. She's hit 4:24. Stephanie Brown has done a 4:29, and she's in great shape this year, so she'll definitely be pushing Kim for the title. You never know what can happen."
Continue reading at: lodinews.com