Gabriele Anderson Dreaming Big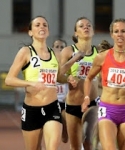 June 27, 2012
The small-town girl from Minnesota is an Olympic contender in the 1,500 meters.
By Sarah Barker, Competitor.com
Gabriele Anderson finished her tenth interview in the last month as the two-time cancer survivor who's trying to make the U.S. Olympic team. By the way, she's run 4:06.46 for 1500 meters, making her the fifth fastest qualifier at these U.S. Olympic Trials. Isn't she the tiniest bit peeved that the cancer survivor label gets equal billing with an accomplishment that would be exceptional on its own, one that's taken years of dedication, talent and hard work?
"That's my story and I'm OK with it — at least I have one," she says, laughing over her "morning" 1 p.m. coffee. The 26-year-old Perham, MN native exudes the sunny pragmatism and clear focus of someone in a very good place.
Continue reading at competitor.com