Galen Rupp Looks to Join the Sub-3:50 Mile Club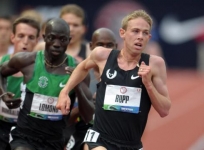 January 22, 2013
By Mitch Kastoff, Flotrack
Galen Rupp will get one more shot at taking down yet another American record. This time, he'll hopefully have some company.
Rupp and Salazar's decision to race a Mile at the UW Indoor Preview and the upcoming Boston University Terrier Invitational shows that the Olympic silver medalist wants to fine tune his gears for the upcoming 3000m showdown at the New Balance Indoor Grand Prix.
If Rupp wants to hang with Olympic 5k silver medalist Dejen Gebremeskel or World Junior Record-holder at 5000m Hagos Gebrhiwet in that 3000m, he'll need to muster more than 3:57.15. Remember, Gebremeskel beat Mo Farah at this race two years ago... with one shoe.
That's why serendipity is the word for the BU Terrier Mile. If you're going to travel to Boston anyway and want to squeeze in one more quick race, why not come up a week early and stack the BU Terrier Mile?
Continue reading at: flotrack.org