GOAL Mile goes global to hit €200K fund target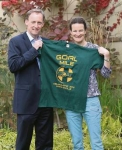 December 22, 2013
Celebrity backers already vying to complete the fastest Mile; 5000m world champion and Mile legend Eamonn Coghlan clocks 6:08
By Cormac McQuinn, Irish Independent
THIS year's GOAL Mile fundraising drive is set to be the biggest ever with the overseas aid charity hoping to raise €200,000 over the festive season.
The charity, which is involved in aid efforts in 13 countries including Syria and the Philippines islands, is holding more than 100 walks around Ireland.
And this year the event has gone global with troops set to take part in a Christmas Day hike in the Lebanon and the Golan Heights. Sonia O'Sullivan will host her own Mile event in Melbourne next Saturday, the first ever GOAL Mile in Australia.
GOAL chief executive Barry Andrews said that the GOAL Mile raised more than €150,000 last year. He told the Irish Independent: "We hope to meet last year's amount and because we have an extended number this year and we have a few overseas there's no reason why we shouldn't head towards €200,000 this year."
Continue reading at: www.independent.ie