High School Athlete Continues to Bring Home National Titles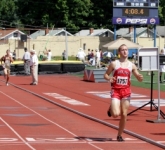 March 09, 2012
By Molly Urian, The Parthenon
A Cabell Midland High School athlete is making history by using his speed to become West Virginia's fastest distance runner on the high school level.
Jacob Burcham, junior cross country and track and field competitor, is known for his national and worldwide attention...
Burcham's goal for the 2012 track season is to run a sub-4:00 mile.
"Jacob definitely has the potential to run sub-four in high school," Parsons said. "There have been only five athletes to run this in U.S. history at the high school level. Jacob realizes what a goal he has set for himself and the factors that have to line up for him to achieve it."
Read complete article at www.marshallparthenon.com