ING KiDS ROCK Gets Kids On Road to Fitness at D.C. Armory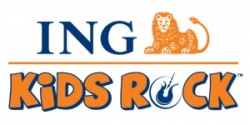 March 15, 2012
By ING KiDS ROCK
Running a Mile has never been so much fun. On Friday, March 16, nearly 1,000 local children will have the time of their lives as they learn the importance of fitness at ING KiDS ROCK D.C. The event will take place at the D.C. Armory, Lot 6, with races beginning at 5:30pm.
The one Mile, non-timed, non-competitive fun run to combat childhood obesity will welcome kids in grades K-7. All participants are winners and will experience the thrill of a cheering crowd at the finish line — learning that running can be fun.
Dr. Andy Baldwin, a U.S. Navy physician widely known for his appearance on ABC's "The Bachelor," now works to create awareness about the importance of fitness and the fight against childhood obesity as the ING KiDS ROCK and ING Run For Something Better® ambassador. He'll be on hand to cheer on the kids as they cross the finish line. Joining Baldwin are Jim Ryun, Olympic medalist, world-record holder and former congressman, and veteran sports broadcaster Bonnie Bernstein.
"Physical fitness sets kids up for success in life on many levels and I want every child to have that. The key is making it fun," said Baldwin. "Creating a national platform advocating youth fitness is critical in raising awareness and helping curb childhood obesity in America. ING KiDS ROCK is an incredible partnership of dedicated organizations and I'm thrilled to be associated with it."
Young athletes participating in this program become "marathoners" by completing 25.2 miles of a 26.2-mile marathon at their own pace using the Official ING Run For Something Better Training Guide. Children may log their miles anywhere and anytime — at home, during recess at school or soccer practice. They track mileage based on the honor system with supervision from a parent, teacher or facilitator.
The final Mile will be completed on race day and finishers will receive a medal and goodies to commemorate the accomplishment. The training guide also includes tips for a healthy lifestyle and nutrition.
The ING KiDS ROCK series is supported by ING Run For Something Better, ING's charity that champions running and fitness programs in schools across the country.
"As the official charity of ING KiDS ROCK, the ING Run For Something Better program is helping to get kids on the road to adopting healthier lifestyles as a way to combat childhood obesity," said Rhonda Mims, president of the ING Foundation and senior vice president, ING U.S.'s Office of Corporate Responsibility. "ING KiDS ROCK is a fun way for kids to achieve a sense of accomplishment for their discipline leading up to the event and we hope they continue running for years to come."
ING KiDS ROCK aligns with first lady Michelle Obama's "Let's Move!" initiative and the program is teaming up with The President's Challenge to reach as many kids as possible across the nation. The President's Challenge promotes physical activity that is fun and that you can do on your own, with friends or with family members. Participants in ING KiDS ROCK can earn awards for staying active and track their progress along with other kids across the country.
The kids' race takes place in conjunction with the sold-out SunTrust Rock 'n' Roll USA Marathon and Carefirst Rock 'n' Roll USA Half Marathon on Saturday, March 17. Registration for ING KiDS ROCK D.C. will be available at the Health & Fitness Expo on Thursday, March 15, and Friday, March 16. For more information, go to: INGKiDSROCK.com

ABOUT ING RUN FOR SOMETHING BETTER
ING Run For Something Better® helps fund school-based running programs in an effort to combat childhood obesity before it ever begins. Linked to ING's commitment to education, the program helps introduce kids to the benefits of sport, a habit of physical fitness and a healthy lifestyle. Nationally, ING U.S. has committed over $2.5 million to fund grants and school-based running programs through ING Run For Something Better. Since 2006, $1 million has also been raised by individual donors through a special charitable fund that encourages others to support the cause through their own contributions. When someone donates $10 or more to ING Run For Something Better, ING will recognize their contribution by giving them a special pair of orange shoelaces to wear showing that they are "tied" to supporting kids' fitness. One hundred percent of the net proceeds go to the ING Run For Something Better fitness programs. For more information about the orange laces, go to orangelaces.com.
About ING KiDS ROCK
ING KiDS ROCK is a cumulative marathon program capped by a non-competitive, non-timed one Mile fun run for kids grades K-7. As participants in the ING KiDS ROCK program, young athletes become marathon finishers by completing 25.2 miles of a marathon at their own pace with guidance from parents or teachers. T he event plans to motivate children to live a healthy lifestyle. They can learn early on that running can be fun and goals can be attainable. Held in conjunction with the Rock 'n' Roll Marathon Series, all participants meet to run one Mile together during marathon weekend. Each participant will run or walk one Mile, cross the finish line and receive a finisher's medal and goodies to commemorate the accomplishment. Further information about the program is available online at INGKiDSROCK.com.