Jenny Simpson: Record Breaking Track Star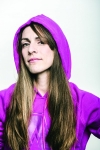 June 22, 2015
"No matter if you're a first-timer or a high-level runner, the biggest thing you need courage for is getting to the starting line. It's the courage to commit and prepare."
By Brian Metzler, Competitor Magazine
Two-time Olympian Jenny Simpson, 28, is one of America's best runners on the track, having earned World Championship gold (2011) and silver (2013) medals in the 1500 meter run. She was the world's top-ranked 1500m runner last year and came within a fraction of a second of breaking Mary Slaney's 1983 American record of 3:57.12. In February, Simpson set a new U.S. mark in the indoor 2-Mile run of 9:18.35. She's preparing for this year's World Championships in Beijing this August.
How did you start running?
There were a lot of value-building things that my parents introduced me to when I was younger—and that's good, parents should impose those things on kids—but running was really 100 percent my idea.
Favorite place to run?
I appreciate tradition and history, and the Olympic stadiums really capture that in a special way. I feel fortunate to have raced in my own Olympic experiences in Beijing and London, and to be able to have run in Olympic stadiums in Moscow, Tokyo and Stockholm. I feel very connected with the women who paved the way before me when I'm there.
Continue reading at: running.competitor.com