Jon Rankin Announced as BBTM California Captain for State Petition Drive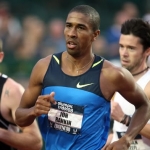 May 30, 2013
3:54 Miler and UCLA grad will lead CIF lobbying campaign to drop the 1600 meters for the Mile
SANTA BARBARA, Calif. – (May 30, 2013) – Bring Back the Mile, the national campaign to elevate and celebrate the iconic distance, has announced its first State Mile Petition Drive captain: Jon Rankin of Aliso Viejo, CA. Rankin, a 3:54 Miler, will lead the effort to lobby the California Interscholastic Federation (CIF) to drop the 1600 meters for the Mile.
"We welcome Jon to the BBTM team. As a former California high school middle distance standout, UCLA All-American and sub-3:55 Miler, he has the passion, drive and experience and also understands why it is important to bring back the Mile at the state level not only for the sport, the fans and the media, but moreover, for the kids," said Ryan Lamppa, Bring Back the Mile founder. "Together with Jon, we will create a template for other state petition drives for the Mile."
"I look forward to working on this state petition project not only because the Mile is near and dear to me as a runner, but also because all boys and girls should have the opportunity to run the Mile not just elite high school athletes," said Jon Rankin (above, PhotoRun), co-founder of The Run Project, a website that connects runners with non-profits, and founder of Giving Athletics, a non-profit company that brings running programs to underserved communities and schools.
About Brin

g Back the Mile
The Mile holds a special place in Track & Field and beyond because no running distance, or field event for that matter, has the history, the appeal, the "magic" of the Mile. The first sub-4 minute Mile by Great Britain's Roger Bannister in 1954 is regarded as the greatest individual athletic achievement of the 20th century (see Forbes November 18, 2005 article HERE), and no other event has produced an equivalent of the sub-4 minute Mile standard in the sport, in the media and in the public's mind.
Over the past decade, unfortunately, the Mile has lost some of its luster, and thus, the Bring Back the Mile mission is: To return the Mile to prominence on the American sports and cultural landscape by elevating and celebrating the Mile to create a national movement.
Visit www.bringbackthemile.com or contact media@bringbackthemile.com for more information.