Kiwi legend Dixon reminds young local runners "finishing is winning"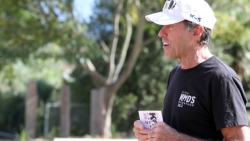 March 29, 2017
"Then when I went to the Olympics in 1972, he asked me to promise him one thing – inspire the next generation, just as he had done for us."
By Tim O'Connell, Stuff
One of the country's finest runners was a welcome visitor in the country this week, helping some young runners make metres towards good health.
Nelson-born Olympian and New York City Marathon winner Rod Dixon visited Mahana School on Monday to encourage the next generation of winners as part of the Kidsmarathon programme he established in 2005.
Following a motto of "finishing is winning, winning is finishing", participants take part in regular running or walking sessions until the full 42.2K / 26.2 Mile distance is completed.
Continue reading at: www.stuff.co.nz