Lagat Ponders the End of the Race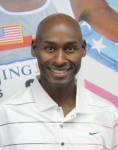 September 20, 2012
By Joe Battaglia, NYRR News
For a man who has competed fearlessly throughout his career, Bernard Lagat finds himself staring down two frightful prospects.
As the 37-year-old peers down the road in defense of his title at Saturday's Fifth Avenue Mile Presented by Nissan, he will not only see the finish line of the race but will also be looking beyond it toward the end of his illustrious career.
And the thought is terrifying.
"It definitely scares me," Lagat said. "It will be hard to imagine that one day, and it is coming very soon, that I won't ever run competitively."
Continue reading at: nyrr.org