Livingston, Skidmore Take Millen Mile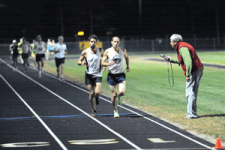 September 10, 2013
Women's winner Meg Skidmore sets event record, clocking 5 minutes, 33 seconds; Mile contested at halftime of the home Kennett High football game
By Lloyd Jones, The Conway Daily Sun
CONWAY, N.H. — Leslie Beckwith broke her own course record in the third Gary Millen Mile by 11 seconds Friday night and still didn't win the race at the Gary Millen Stadium on the campus of Kennett High School. That honor for the women went to fellow Intervale resident Meg Skidmore, who has headed to London this week to represent the United States in the World Triathlon Championships.
Skidmore won a sprint down the home stretch with a large, vocal crowd cheering her on to set the new women's event record of 5 minutes, 33 seconds. Beckwith was second in 5:35. Skidmore is scheduled to compete in London on Friday morning.
For the men, Tim Livingston became the third different winner of the title. The former Kennett High standout athlete and current high school assistant track coach ran a speedy time of 4:41. Tristan Williams, of Jackson, who won the Hampshire 100K trail race last month, was second overall in 4:43.
Less than 16 hours later Livingston turned around and won the Coach's Races at Great Glen Trails, covering the 3.2-mile cross country course in 17:15.
"Tim is running well," Bernie Livingston, his dad and head cross country and track coach at Kennett High, said. "What he's really training for is (defending) the White Mountain Milers Half Marathon next month. He was happy to win the Millen Mile, but his time was actually five seconds slower than last year."
Continue reading at: www.conwaydailysun.com