Lockhart and Song to run in Tommy Cochary High School Mile at New Balance Falmouth Road Race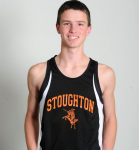 August 11, 2015
Winners of both the boys and girls Miles will have a grant of $2500 awarded to their school in their name to be used in a way that implements change in athletics or wellness.
From The Stoughton Journal
A Stoughton boy and a Canton girl will be among 20 state high school athletes to compete in the Tommy Cochary High School Mile Saturday, August 15, in conjunction with the New Balance Falmouth Road Race the next day.
David Lockhart of Stoughton High School will compete in the boys race, and Catherine Song of Canton High School will compete in the girls race.
The high school Mile was renamed three years ago in honor of Tommy Cochary, a young Falmouth runner who was killed in a drunk-driving accident in 1990. The Falmouth Road Race was a huge part of the family's life, and athletes are chosen to compete not only because they are among the best prep Milers in Massachusetts, but also because they embody Cochary's spirit of an active life and fun-loving attitude, and because they have shown evidence of making smart choices in their lives.
Continue reading at: stoughton.wickedlocal.com