Madeira Mile inspired by Jim Ryun's example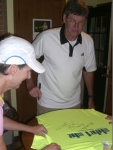 July 01, 2014
''People know the distance and they know the history. Absolutely it can make a comeback." - Frank Russo
By John Erardi, Cincinnati Enquirer
If one is holding an annual event called the Madeira Mile, there can be no better patron to have than the greatest U.S. Miler of all-time Jim Ryun.
As an organizer of the Madeira Mile on Thursday, July 3, John Kean said he is inspired ''to go the extra Mile'' by Ryun's example.
''I think about his training regimen that was so far ahead of what anybody else was doing in the world and the incredible personal commitment that it took,'' said Kean, who has known Ryun for 45 years.
''Jim's name reinforces our event as a friendly, small, community race,'' Kean said. ''He has shown deep-rooted humility, faith and friendship that is rare for world-renowned athlete.''
Continue reading at: www.cincinnati.com