Men's Mile presented by Mondo Headlines 2018 Camel City Elite Races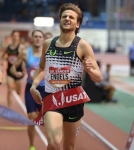 January 30, 2018
$9000 to Men's Mile winner with facility record; $6000 per champion in 5 other events
From JDL Fast Track
WINSTON-SALEM, N.C. – The Camel City Elite races are set for Saturday, February 3 at JDL Fast Track. The first race is set to begin at 2:00pm, but spectators are urged to get there by 1:30 to get a good seat and see the athlete introductions for the first race.
This year, the marquee event will clearly be the men's Camel City Mile presented by Mondo, which is scheduled for 3:00pm. It is set up to be the fastest and deepest field to-date; some of the reasons for this deep field occurred only in the last 24-48 hours.
The field was originally slated to include 17 x NCAA champion Edward Cheserek, 2012 Olympic silver medalist Leo Manzano, 2016 NCAA indoor Mile champ Henry Wynne and NCAA runner-up at 3000m Kirubel Erassa. This field got even better after hometown hero Craig Engels failed to get the 3:55.00 World Indoor Championships standard at the Dr. Sander Invite in New York City on January 27.
Engels was slated to run the Camel City 800m presented by Small Batch Beer Company, but after his race at The Armory, he still needed to get the standard at some point before the USA Indoor Championships in late February. The attention turned to this coming weekend. After discussions between his agent and facility director Craig Longhurst, it was an easy decision to move Engels to the Mile at JDL Fast Track.
Longhurst met with JDL Fast Track owner David Shannon, and they developed some additional incentives to keep Engels in the meet. In addition to the already existing prize structure that will pay the winner of the race $6000 and a $1000 bonus if they break 3:58.00, Shannon and Longhurst added a $1000 bonus to anyone in the race who achieves the World Indoor standard of 3:55 or faster. Additionally, they added another $1000 bonus to the winner if he breaks the existing facility record of 3:54.02 that was set by 2016 Olympic gold medalist Matthew Centrowitz at the 2016 event.
Those additional incentives helped Engels make the decision to stay in Winston-Salem and compete in front of his friends and family. Meanwhile, 2016 Olympic 5000m silver medalist Paul Chelimo is now also considering an attempt to double back from the Camel City Elite 3000m presented by Salem Sports. Chelimo has never officially broken 4:00 for the Mile, but he is considered by some to be one of the most dangerous American distance runners today. He is the defending Camel City Elite 3000m champ after having won this event last year in a facility record 7:45.49.
"These bonuses are intended to help the entire field, all of whom are targeting that World Indoor standard. Without the standard, they cannot compete at the World Indoor Championships, should they make the Team USA. It ensures that the race will be fast from the gun. It was also an opportunity to help these athletes and also make the race even more exciting. At the end of the day, this could be one of the richest prizes for an indoor meet in the United States," said Longhurst.
If the winner breaks Centrowitz's facility record, he would receive $6000 for the win, $1000 for the original sub-3:58 bonus, $1000 for achieving the World Indoor standard of 3:55.00, plus the additional facility record bonus of $1000 for a grand total of $9000.
The men's Mile will also feature four collegians from Virginia Tech, one from Queens University in Charlotte, as well as local high school star Cameron Ponder of Mount Tabor.
Before the men's Mile, there are five other Camel City Elite events. The first race at 2:00pm will be the previously mentioned men's 3000m which will feature Chelimo, as well as former Virginia Tech standout Thomas Curtin, Izaic Yorks, Willy Fink and local product Donnie Cowart. This race will also feature collegians from Campbell, Furman, Liberty, Mount Olive, Middle Tennessee State and Virginia Tech.
The second race of the day is the women's Camel City Elite 3000m presented by Visit Winston-Salem. This race will feature professional athletes Stephanie Brown, Marisa Howard, Rachel Johnson and Megan Rolland as well as collegians from Charlotte, Davidson, Eastern Kentucky, Furman, Mount Olive, NC State, North Carolina and Virginia Tech. This race is slated to begin at 2:15pm.
Next will be the women's Camel City Elite 800m presented by Total Sports US. This race may be the battle of the Hanna(h)s as all three pros share that name. They are Hanna Green, Hanna Hermansson and Hannah Segrave. One of the fastest athletes in the field is NCAA Division III star Emily Richards of Ohio Northern, who is the fastest NCAA returner at 800m across any NCAA division. This race also features athletes from Middle Tennessee State and Virginia Tech. The women's 800m is slated for a 2:30pm start.
At 2:40 pm, the men's Camel City Elite 800m presented by Small Batch Beer Company will begin. After Engels moved to the men's Mile, this race will feature Ryan Martin, Drew Piazza and defending champ Eliud Rutto, who won this event as a collegian while attending Middle Tennessee State. The collegians in this field are from Appalachian State, East Carolina and Ohio Northern.
Next on the track at 2:50pm will be the women's Camel City Elite Mile presented by Champion. This race features defending champ Rachel Schneider, Cory McGee, Canadian Olympian Erin Teschuk, Katrina Coogan and Lianne Farber. Schneider and McGee have both broken 4:30 for the Mile in the past few weeks. The collegians in this field include athletes from Clemson, NC State, North Florida, Richmond and Virginia Tech.
Prize money for each race is based on overall finish. First place will be awarded $6000, second place $4000, third $2000, fourth $1000 and then it goes $750, $500, $400 and $300. Each race also has a time bonus to the winner of $1000 if they break a pre-determined target time.
General admission is available at the door at a cost of $10 for adults, $5 for students, and kids 12 and under are free. There will also be a Sunday morning run at Salem Lake at 8:30am with some of the professional athletes. In addition, athletes will be at the track Friday afternoon signing autographs from 4:30 to 6:00 pm. Admission on Friday is $7 for adults, $5 for students, and kids 12 and under will again be free.
Camel City Elite will be streamed live online at www.jdlfasttrack.com as part of the RunnerSpace +Plus subscription package which starts at $12 a month.
ABOUT JDL FAST TRACK
JDL Fast Track is a privately owned facility that is quickly becoming one of the premier indoor track & field venues in the southeast. Opened in 2012, the facility houses a 200 meter oval track with a Mondotrack FTX surface—the same surface used at the 2012 Olympic Games in London. With a seating capacity of 1,700, ten HD televisions showing real-time field event results and five high definition projector screens for video playback, JDL Fast Track offers fans a unique track & field experience.
To-date, JDL Fast Track has hosted four national championships: 2014 NCAA Division II, 2015 NCAA Division III, 2015 USATF Masters Indoor and 2016 NJCAA Indoor Track & Field Championships. JDL Fast Track is currently slated to host the 2019 USATF Masters Indoor and 2020 NCAA Division III National Championships.