Mile Guide: adidas Meet of Champions & Manzano Mile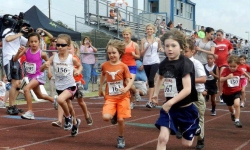 March 22, 2013
2013 outdoor High School season kicks off with first adidas Dream Mile qualifier; Manzano Mile supports community in Austin, TX
By Bring Back the Mile
The Meet of Champions at Azusa Pacific University enters its 23rd year with an incredible day of distance races, showcasing some of Southern California's best prep athletes and future stars. More than 2,500 athletes will step onto the track this year beginning at 7:00am and lasting until 7:00pm, incredibly with only 20 seconds between each race. Then from 7:00pm to 9:30pm the invitational sections will electrify the night including great Mile fields serving as the first qualifier for the Jim Ryun Dream Mile in June at the New York adidas Grand Prix.
"Whereas in most races during the year the gap between first and last can be large, the Meet of Champions presents an opportunity for kids to be in races that they can win," stated meet director Tim O'Rourke. "Many of the heats have athletes only separated by two seconds; the kids are excited and the parents are excited. At the top end, the evening invitational Miles are again very fast."
For the girls in the invitational Mile, five will toe the line with sub-5:00 minute Mile performances, including Cara Ulizio, a 2012 state meet finalist. Beverly Hills' Sydney Segal is the top entrant with a 5:52 seed time. The boys' race could prove to be an early season look at two vying for the state title and national recognition. Junior Blake Haney comes in with a personal best 4:09.43 and is coming off a 9:08.28 PR at 2 Miles at the Brooks PR Invitational on February 24th. Last year as a sophomore he finished 3rd at the state meet and was just ahead of Cody Brazeal who will also be toeing the line in tomorrow night's showdown. Brazeal has a 4:13.38 Mile best (4:07.72 1600 PR) and is looking to solidify himself as California's top contender in 2013.
Out in Austin, TX, 2012 Olympic silver medalist Leo Manzano will host the second Manzano Mile at Texas School for the Deaf. An All-Comers track meet, the Manzano Mile consists of individual Mile events ranging from age groups 10 years to Grand Masters (50+) and there are special relay categories for Corporate / City, Fit Industry as well as Media teams. For kids 9 and under a free 1379 Kids Quarter "Future Milers of America" will again take place. Go Manzano Mile!
2013 adidas Meet of Champions
Azusa, CA - Saturday, March 23
Manzano Mile
Austin, TX - Saturday, March 23
Johnny Mathis Invitational Masters Mile
San Francisco, CA - Saturday, March 23