Mile Guide: Wanamaker Edition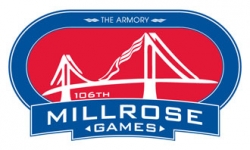 February 13, 2013
By Bring Back the Mile
First held in 1908 and known as the Wanamaker Mile from 1926 on, the world famous Mile enters its second year away from the boards of Madison Square Gardens to the uber fast and energetic New Balance Track & Field Center at the Armory. Named after Rodman Wanamaker, the head of the Wanamaker's Department Store in New York City, it became one of the most famous events in the sport elevating stars such as Eamonn Coghlan, the "Chairman of the Boards," and the ageless Bernard Lagat as well as electric performances such as Doina Melinte's current Millrose Games record of 4:21.45 in 1988.
Who will be the next great Wanamaker Mile athlete? Will Matthew Centrowitz start a streak that can rival Lagat's eight Wanamaker Mile titles? Will the collegiate champ, Jordan Hasay or the prep Mary Cain elevate themselves into the ranks of some of the best Milers of all-time? The Millrose Games has put together stellar fields once again for Saturday evening and we've compiled a viewer's guide to settle in with on Saturday evening.
Millrose Games: Saturday, February 16
ESPN 3 Live Streaming Coverage Begins at 7:00pm EST
NYRR Wanamaker Women's Mile: 8:40pm EST
NYRR Wanamaker Men's Mile: 9:50pm EST
NYRR Wanamaker Men's Mile Preview
This field is loaded with 11 men having run sub-4 minutes in the Mile and another, Robby Andrews, who with a 3:34.78 1500m PR is certainly capable of doing so. While Wanamaker Mile reigning champion Matthew Centrowitz is the favorite on the heels of his stellar 2012 season, he will not be without a challenge. Australia's Ryan Gregson comes in as the top seed with a 3:52.24 PR and two-time Olympian Lopez Lomong (USA) is right behind with a 3:53.18 best. Centrowitz has already stated that Lagat's 3:52.87 event record is his target and something faster is possible. Will anyone catch him? Here's the Tale of the tape...
Event Record: 3:52.87 Bernard Lagat (USA / AZ), 2005
NCAA Record: 3:54.54, Miles Batty (BYU / USA), 2012
USA Record: 3:49.89, Bernard Lagat (USA / AZ), 2005
World Record: 3:48.45, Hicham El Guerrouj (MAR), 1997
NYRR WANAMAKER MEN'S MILE - 9:50pm EST
NAME
TEAM
CTZ
MILE PR
YR
1500 PR
YR
NOTES
Ryan Gregson
Nike
AUS
3:52.24
2010
3:31.06
2010
1500m AUS Record
Matthew Centrowitz
Nike
USA
3:52.4r
2012
3:31.96
2012
2011 WC Medalist
Lopez Lomong
Nike Oregon TC
USA
3:53.18
2010
3:32.20
2010
'08 & '12 Olympian
Garrett Heath
Saucony
USA
3:54.4r
2012
3:36.03
2012
8x NCAA All-American
Ciaran O'Lionaird
Nike Oregon TC
IRL
3:54.76i
2012
3:34.46
2011
2012 Olympian
Lawi Lalang
U of Arizona
KEN
3:55.09i
2012
3:36.77
2012
NCAA 5000m Record
Donn Cabral
Nike
USA
3:56.41i
2013
3:40.03
2012
NCAA Steeple Record
Chris O'Hare
U of Tulsa
GBR
3:56.48i
2011
3:37.95
2012
'12 NCAA Mile Champ
Ryan Hill
NC State
USA
3:56.78
2012
3:38.36
2012
7x NCAA All-American
Brian Gagnon
NJ/NY TC
USA
3:57.91i
2012
3:38.36
2012
2x NCAA All-American
Liam Boylan-Pett
NJ/NY TC
USA
3:58.19
2011
3:37.05
2012
NCAA All-American
Robby Andrews
adidas
USA
4:01.55
2010
3:34.78
2012
2x NCAA Champ
Mark Wieczorek
Brooks
USA
4:05.70
2011
3:47.43
2012
5x NAIA All-American
i = indoor / r = road

NYRR Wanamaker Women's Mile Preview
After a two year hiatus, the Women's Mile returns to the Millrose Games with a couple of stories to follow. The first is at the top with Hilary Stellingwerff (CAN), Sarah Brown (USA) and the 'racer' Sheila Reid. The three have impressive resumes and any one of them can certainly run away with a win here. But midway down the list we also have a trio of collegiates and arguably America's greatest prep athlete in history that will be battling it out. Jordan Hasay of the University of Oregon was at one time in Mary Cain's shoes, the current darling of the prep scene. Hasay as a Duck is the reigning NCAA indoor Mile champion and has a resume that anyone would envy. However Cain has been getting all the headlines recently smashing the all-time High School Mile record and most recently the 2 Mile record. Not to be overlooked is University of Colorado's Emma Coburn who is the 2012 USA Steeplechase champion and an Olympic team member as well as Dartmouth's Abbey D'Agostino fresh off her 4:34.14 indoor Mile. Here's the Tale of the tape...
Event Record: 4:21.45 Doina Melinte (ROM), 1988
NCAA Record: 4:25.91 Jenny Barringer (CU / USA), 2009
USA Record: 4:20.5 Mary Slaney (USA / OR), 1982
World Record: 4:17.14 Doina Melinte (ROM), 1990
WOMEN - 8:40pm EST
NAME
TEAM
CTZ
MILE PR
YR
1500 PR
YR
NOTES
Hilary Stellingwerff
New Balance
CAN
4:28.62
2007
4:05.08
2012
'12 Olympian
Sarah Brown
New Balance
USA
4:29.72i
2009
4:05.67
2009
4x NCAA Champ
Sheila Reid
Nike
CAN
4:30.41i
2013
4:07.07
2012
5x NCAA Champ
Delilah DiCrescenzo
unattached
USA
4:32.11
2012
4:11.70
2012
USA XC Team
Mary Cain
unattached
USA
4:32.78i
2012
4:11.01
2012
HS MIle Record
Jordan Hasay
U of Oregon
USA
4:33.01i
2011
4:10.28
2011
2x NCAA Champ
Emma Coburn
U of Colorado
USA
4:33.24
2012
4:09.42
2012
2x USA Champ
Abbey D'Agostino
Dartmouth
USA
4:34.14i
2013
4:16.15
2012
NCAA 5000m Champ
Sara Vaughn
Bowerman AC
USA
4:34.29
2011
4:08.34
2012
2012 World Indoor
Renee Tomlin
Nike
USA
4:34.39
2012
4:11.31
2012
2x NCAA All-American
Emily Infeld
Nike Oregon TC
USA
4:36.83i
2010
4:07.77
2012
7x NCAA All-American
Kate Grace
Oiselle - NJ/NY TC
USA
4:39.52i
2011
4:10.57
2012
4x NCAA All-American
Ashley Higginson
Saucony
USA
4:43.01i
2012
4:12.80
2012
3x NCAA All-American
i = indoor / r = road