Rob Denault - Interview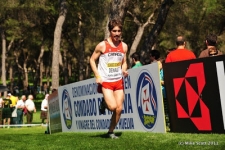 March 05, 2013
By Chris Kelsall, Athletics Illustrated
Rob Denault, who competes for the Villanova University Wildcats just wrapped up his 2013 indoor track season by acheiving one of his primary goals. That goal was to run a sub-four minute Mile at an indoor meet. He did so by running just under the benchmark of 3:59.39 as a freshman at the Alex Wilson Invitational at Loftus Sports Center on Saturday, March 2nd.
Denault hails from Aurora, Ontario.
Denault earned All-Mid Atlantic Region honours and helped Villanova receive an automatic bid to the NCAA Championships by finishing 19th overall at the NCAA Mid-Atlantic Regional. He crossed the finish line in that race in 30:54 and was the Wildcats fifth counting runner. He also finished in the team's top five at all five scored meets during the cross-country season and placed second on the team and 53rd overall at the Pre-NCAA meet with a collegiate-best 8K time of 24:04.7.
Continue reading at: milesplit.com