Seneca Valley's Kolor takes pride in Mile, ready for Penn Relays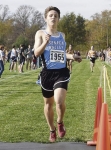 April 28, 2016
"It has an American pride type of thing... Nothing is more fun than a hard Mile with a lot of good competition."
By Kevin Gorman, Trib Live
Mike Kolor is accustomed to being measured in meters, so he can't wait until he can run the Mile.
"It has an American pride type of thing," Kolor said. "When people on the street see me, they always ask your Mile time. Plus, it's fun. Nothing is more fun than a hard Mile with a lot of good competition."
And nothing is more fun than running the Mile at the Penn Relays, one of the nation's biggest track & field events.
Kolor, a senior at Seneca Valley, is one of 17 U.S. Milers — and the lone WPIAL runner — selected to race in the Mile on Friday at the Penn Relays.
To qualify, runners had to break the standard time of 4:20.0. Kolor ran a 4:13.5 at the New Balance Indoor National meet at The Armory in New York.
Continue reading at: www.triblive.com