Steve Spence's Sub-5 Minute Mile Streak Continues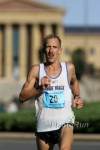 August 21, 2013
The 51-year-old broke the barrier for the 38th straight year.
By Mario Fraioli, Competitor
Barriers are meant to be broken, sometimes over and over (and over) again.
Steve Spence, a 1992 U.S. Olympian best known for winning the bronze medal in the marathon at the 1991 World Championships in Tokyo, smashed the 5-minute mark for a Mile last night for the 38th straight year, clocking 4 minutes, 51.4 seconds at Shippensburg University's Seth Grove Stadium.
Following a crew of three pacers, the 51-year-old Spence hit the halfway mark in 2:29, and covered the penultimate circuit in 72 seconds. At the bell, with only one pacer remaining, Spence found another gear and charged home in 69 seconds to easily break the 5-minute mark.
"I'm starting to think that if I did some speed work prior to the attempt it'd be a lot easier," Spence said in an interview on milesplit.com. "But I was pleased with how I felt. I felt that I could definitely get it. The pace was set up perfect. We got a little quicker with each lap, which was the plan."
Continue reading at: competitor.com