The Born Miler: Exclusive Interview with Miles Batty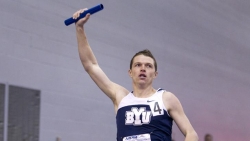 March 02, 2012
The collegiate record-holder is aiming for another NCAA title — and more.
By Duncan Larkin, Competitor Magazine

With one lap to go at this year's Wanamaker Mile at the 105th edition of the Millrose Games, BYU's Miles Batty stood a chance at winning the race outright. As the bell sounded for the final go around the track, he took a deep breath and surged forward. Recently turned pro Matt Centrowitz, last year's World Championship bronze medalist in the 1500m, went with him. In the end, Centrowitz prevailed, but Batty set a new collegiate indoor record, running 3:54.54 and taking second. Batty is from Sandy, Utah and is currently a senior at BYU. He won the individual title at the 2011 NCAA Indoor Championships in the mile and has one of the the fastest sub-4:00 mile debuts in U.S. history (3:55.79). Steve Holman has the fastest, running 3:53.31 in 1992.

Competitor.com caught up with Batty recently to talk about his stellar indoor season, get a peek at his training and discuss his post-collegiate running plans.
Read the complete article at competitor.com