The Mile, America's Classic Distance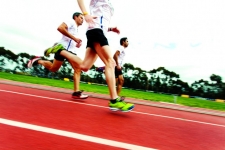 June 04, 2013
If your running is feeling stale, start training for the Mile.
By TJ Murphy, Competitor
Rob Delong was like most kids growing up when it came to running. Every year in gym class, he had to run a Mile.
That was the endurance component of the Presidential Physical Fitness Test, a grade school program developed during the Eisenhower administration to encourage American children to be healthy and active after a study showed their European counterparts were much more fit.
Fast-forward 20 years and, in the midst of getting fit for his first marathon, Delong, a 33-year-old Manhattan currency broker, found himself channeling his younger self.
In October, with razor-sharp fitness, Delong clicked off a steady percussion of 8:50 Miles to finish the Chicago Marathon in 3:52:31. In glancing back through Delong's lightning-fast progression into a fit runner is one particular race highlight that, upon scrutiny, reveals what may be the coolest app of his program: specifically training to run the Fifth Avenue Mile in New York City.
"I hadn't raced an all-out Mile since the President's Physical Fitness Test in school," Delong says with a laugh. Training for and racing in a 1-Mile race, Delong says, clearly helped him hold a faster marathon race pace in Chicago.
Continue reading at: competitor.com