Westchester/Putnam track and field athlete of the season: Cain working toward Olympics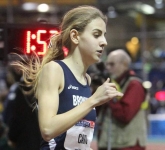 April 16, 2012
Bronxville record setter eyes Trials
By Brian Heyman, The Journal News
Mary Cain is only a sophomore at Bronxville High, but she's already carrying around Olympic-sized dreams, or at least Olympic Trials-sized dreams to start, the ones for this summer's London Games.
And after the kind of indoor season she just had, with local, state and national records tumbling like bowling pins, with a state and Federation title in the 1500 meters, and with that 10th all-America certificate after a runner-up 800 finish at the Indoor Nationals, why not think big?
If she can achieve the mininum standards and has a fast-enough time to get into the trials in the 1500 and/or 800 — and she's at least close to the standards — she still knows it would be a long shot to make the Olympics after she turns just 16 on May 3.
Read complete article at www.lohud.com