Wheating has another chance for stardom ... and not just in videos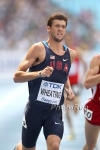 June 27, 2012
By Tim Layden, Sports Illustrated
EUGENE, Ore. -- When the Olympic track and field trials returned four years ago to the home of Prefontaine, Bowerman, impossibly pointy evergreens and the ubiquitous swoosh after a 36-year absence, it was an 11-day celebration of a sport that is loved in many more places than it is given credit for, but none more than here. Yet few who were in attendance would argue that the emotions of those Trials peaked in the dusk of a Monday night with the running of the men's 800 meters.
On that night, muscular Idaho transplant Nick Symmonds plowed out of a tactical box on the last turn and sprinted home to the first of what would become five consecutive national titles and his first Olympic berth. Along the rail, Symmonds' training partner, Christian Smith, dove past a tied-up Khadevis Robinson, for third place and a spot on the team.
But it was the tall (6-foot-5) kid in the middle of track who imbued the moment with its most poignant meaning for many in the stands. Andrew Wheating, then 20 and having just finished his sophomore year at Oregon, was wearing Prefontaine's yellow (or a Day-Glo version of Prefontaine's yellow) and he sprinted home to second place and went to Beijing. The grandstand wobbled that night, as three runners from somewhere else who embraced Oregon as home all made the Olympic team.
Continue reading at: SportsIllustrated.com