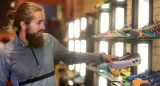 May 08, 2014
At 29, Will Leer is running better than ever and making a stop in his home state.
By Rachel Blount, Star Tribune
The Fu Manchu mustache has been around for several years now, long enough to become Will Leer's signature look. The prodigious beard is a new addition to the Minnetonka native's...
Read More
comments