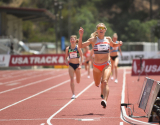 June 12, 2021
The Vermont native is one of only four American women to have broken 2 minutes for the 800 meters, 4 minutes for the 1500 and 15 minutes for the 5000.
By Rich Sands, TeamUSA.org
In the world of track & field, Elinor Purrier is known as the runner who was raised on a farm. She's hoping that...
Read More
comments