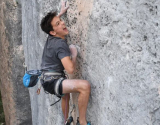 March 16, 2021
"The transition from climbing to running for me was really weird... I think it has been really key for me to learn to let go of my climbing performance."
By Bruce Hildenbrand, Climbing
When Hobbs Kessler set the U.S. High School indoor record for the Mile in Fayetteville, Arkansas in...
Read More
comments