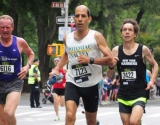 February 14, 2019
"Training for a Mile, you get all sides of the spectrum. You train for speed and train for endurance."
By Andrew Gates, RunWashington.com
"I love the Mile," said DC's Henry Wigglesworth, who considers it his favorite race distance. The 61-year-old has fallen in love with the Mile after years...
Read More
comments