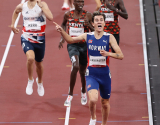 March 13, 2023
"The main goal is just to see how fast I can run and to try to win as much as possible as often as I can, when I can. But the short-term goal always changes. It's always to win the next race or break that record or something."
By Mike Rowbottom for World Athletics
Following the successful...
Read More
comments