A Professor's Journal: A very modest man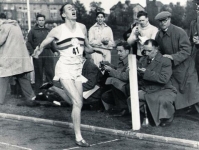 April 19, 2013
By Duane Bolin, professor of history, Murray State
On my birthday in December 2004, I found myself on a research trip to Oxford, England.
More than 50 years earlier on May 6, 1954 Roger Bannister, for the first time, broke the 4-minute Mile in a time of 3:59.4. Although he had failed to medal in the 1952 Helsinki Olympics, placing fourth in the 1500 meters, a part-time coach convinced the 24-year-old Bannister that he could break the seemingly unbreakable 4-minute barrier two years later.
So, Bannister, who had come to Oxford in 1946 to study medicine, remembered that when he arrived at Exeter College the first day, "I dropped my bags and set off for the running track … For the first time in the years I spent in Oxford," Bannister said, "I made the journey across Magdalen Bridge to the Iffley Road track." It was there on that rainy, windy May 1954 day that Roger Bannister broke through the 4-minute barrier.
Continue reading at: www.thenews.org