Aragon, Peterson highlight BSSG Montana Mile fields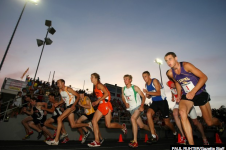 July 16, 2015
With top female and male runners in the state expected, event records could fall on Friday, July 17
From Billings Gazette
Christina Aragon and Robert Peterson highlight the women's and men's fields for the annual Montana Mile, one of the most anticipated events for the Big Sky State Games opening ceremonies.
Aragon won the race in 2013, while Peterson is the defending men's champion.
The races will take place at approximately 8:30 p.m. on Friday, July 17 at Wendy's Field at Daylis Stadium.
This will be the 24th year for the men and 16th for the women.
The event features some of the top female and male runners in the state of Montana.
The men's record is 4:07.9, run by Patrick Casey in 2010. The women's record is 4:53.9 by Lois Ricardi Keller.
Joining Aragon are: Keegan Day, Bailee Parker, Nicole Reitz, Kaylee Schmitz, Louisa Serpe and Chiara Warner. Ricardi Keller, the defending champion and a seven-time winner of the event, will not run.
Continue reading at: www.billingsgazette.com