Athletics the winner at the rejuvenated Australian Mile Championships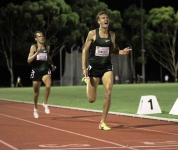 December 23, 2018
The event is an ongoing legacy of the legendary three-time Olympian Albie Thomas who won the most ever Australian Mile titles (four) and was also the first to break 4 minutes on Australian soil
By David Tarbotton & Ron Bendall for Athletics NSW
The first Australian Mile Championships for 25 years, held in Sydney last evening, was a major success. Conducted as part of Bankstown Sports Athletics Club's annual Albie Thomas Meet the championships attracted quality fields who produced on the evening. In the boutique Crest venue, it was a relaxed atmosphere, but still a sense of history and occasion that made it a great event and a must do on your athletics calendar.
MEN
The pre-race expectation was it would be a race between training partners Matthew Ramsden (WA) and Ryan Gregson (VIC) and that is certainly how it evolved. Early pace was taken on by half-mile specialists Rob Lister (NSW) as they passed the mid-way point in 2:04. But the athletes kicked down over the last two laps. Approaching the bell, Ramsden had moved to the front and Gregson was close behind. But in the home straight Ramsden held his advantage as he and Gregson moved away from the field as both dipped under sub-4 minutes with times of 3:59.18 and 3:59.95 respectively.
"It feels really good to win - my first Open Australian title, so I'll claim it," said Ramsden who suffered major disappointment last summer.
"I tore my plantar fascia in the Commonwealth Games trials heat. I won my heat but after the race I couldn't walk. I'm all over it and feel really good with no niggles or anything now."
Gregson was understandably disappointment, but philosophical about the defeat.
"It was alright first up from a spell where my last race was in Darwin in September. First race of the season is always a little rusty but still was a sub-4 minute Mile and it should only get better from here."
It was the 25th Mile / 1500m race of the year for Gregson which has seen him run a sub-4 minute Mile (or 1500m equal) in nearly all the races.
Continue reading at: nswathletics.org.au