Beatty, world's first indoor sub-4 Miler, donates track spike to MOWA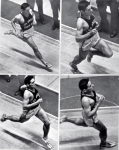 January 03, 2022
"I wanted an American to become the first man in the world to go under 4 minutes indoors."
By Simon Turnbull for World Athletics Heritage
Whenever Jim Beatty is asked to speak about his enduring niche in track & field history, as the first man to run an indoor Mile in less than 4 minutes, he plays a DVD recording of his landmark race from the Los Angeles Times Invitational meet on February 10, 1962.
"Although everyone knows the outcome, everyone in the room stands up and cheers as if they were seeing it live," said Beatty, who has kindly donated one of his spikes (right shoe) from his trailblazing 1962 season to the World Athletics Heritage Collection and the Museum of World Athletics (MOWA). "It is still that exciting."
It is indeed. Watching the grainy footage, track and field heritage comes to vivid, inspirational life - enhanced by the dulcet tones of Jim McKay, the legendary voice of ABC's Wide World of Sports, who became renowned for his marathon commentary on the unfolding horror of the Munich Massacre at the 1972 Olympic Games.
"We come to the classic event of any track meet, indoors or out: the one Mile run," McKay trumpeted from his commentary box seat in the Los Angeles Memorial Sports Arena. "This one could really be something, because a four-man team from the Los Angeles Track Club has announced it is going to make a kind of a group assault on the world indoor record.
"It is hoped that one of them, right here and now, can run the Mile in less than 4 minutes. Nobody has ever done it in a place with a roof on it."
Igloi trained
The four LA musketeers were Beatty, Jim Grelle, Laszlo Tabori and Dave Martin. They were joined by just one other competitor, Lieutenant Pete Close of the U.S. Marine Corps.
It was, of course, a neat, symmetrical reflection of the first successful outdoor assault on the 4 minute Mile barrier: at Iffley Road in Oxford on May 6, 1954. Roger Bannister's momentous 3:59.4 had been assisted by the pacemaking of his training partners Chris Brasher and Chris Chataway and orchestrated by their coach, Franz Stampfl.
The LA indoor attempt was plotted by the great Hungarian middle-distance guru Mihaly Igloi, who emigrated to the United States and settled in the Los Angeles area with Tabori, who became the third man to crack 4 minutes outdoors in 1955 (after Bannister and his great Australian rival John Landy), the year in which he also equalled the 1500m world record.
At the open, exposed Iffley Road track, Brasher toed Bannister to 400 meters in 58 seconds and 800 meters in 1:58, then Chataway took him through 1200 meters in 3:01.
"Little Jimmy" runs sensationally
On the LA boards, with its dizzying 11 laps to a Mile, Beatty did more of the running himself.
Tabori led through 400 meters in 58.9 before Beatty hit the front.
Beatty was a sight to behold as he attacked the clock with all the aggression of the champion boxer he had been in his schooldays in Charlotte, North Carolina.
"One of the gamest runners you'll ever find in the world," said McKay of the 5ft 6in "Little Jimmy" (as the North Carolina press dubbed Beatty), with his distinctive barrel-chested build and slightly out-swinging arm carriage.
Grelle, who was to win the Pan Am Games 1500m title ahead of Beatty in 1963, settled in behind as the two men noisily rounded the bend together. "There you hear the feet pounding on boards, the unmistakable sound of indoor track," McKay noted.
At 800m, with the TV clock reading 1:59.5, Grelle took over in front, pressing on to 1200m in 3:01.2.
At that point, Beatty took off with a vengeance, powering relentlessly clear. "Beatty is running sensationally, and the crowd is going wild," crowed McKay, before Beatty, head bobbing in the home stretch, crossed the line in 3:58.9, clocking the first sub-4 indoors.
Mr. Inside
"I still get sweaty palms when I put the DVD on and watch it again," admitted Beatty in an in-depth interview on garycohenrunning.com. "Nothing has changed. It's nice when people often refer to me and say things like, 'Roger Bannister was Mr. Outside and you're Mr. Inside.'
"I wanted an American to become the first man in the world to go under 4 minutes indoors," added Beatty in an interview with Duncan Larkin on the website Bring Back the Mile. "I set out to do it and then I achieved it.
"I had talked to Coach Igloi in late September / early October that I wanted to be the first man to run an indoor Mile under 4 minutes. He designated the LA Times meet as the one where I would go after the record but his modus operandi was to never tell you what the strategy was until five or 15 minutes before a race.
"On that particular evening, Igloi got Jim Grelle, myself and Laszlo Tabori together and laid out the plan and the times for each quarter-mile. He told Tabori that he would go first and run 58 to 59 seconds and I would take over and come in at 1:58 / 1:59 for the half-mile. Then Grelle would take over and get us to a three-minute quarter mile. After that, it was every man for himself.
"When I felt the pace drop, I took over from the three-quarter mile point. The real motivating factor at that particular point was fear because we were losing time in that third quarter.
"I knew that I would have to make it up somehow and I did shoot out like a rocket. I was going as fast as I could with each step."
Continue reading at: worldathletics.org