CBA crushes national record in 4xMile at New Balance Indoor Nationals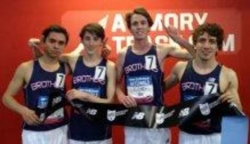 March 15, 2014
Tom Rooney's 4:10 Mile with huge kick delivers the thrilling victory
By Jim Lambert, Star-Ledger
Victory! Revenge! Record!
Christian Brothers Academy had all three of those things on its minds when it took the line to defend its 4xMile title at Saturday's New Balance Indoor Nationals at the NYC Armory.
It got all three in breathtaking fashion as CBA crushed the national record by running a sizzling 17 minutes, 7.17 seconds to repeat as national champion and avenge its loss at the Nike XC Nationals to Gig Harbor of Washington in a race for the ages!
CBA's 17:07.17 chopped a whopping 13 seconds off the national record of 17:20.20 set in 2012 by Chariho of Rhode Island.
Gig Harbor, which edged CBA by 28 points for the NXN title, was second in 17:08.44, and Brentwood of Tennessee, third at the NXN, was third in 17:15.58; all under the old mark.
Continue reading at: http://highschoolsports.nj.com