Chapus, Weissenbach going the distance together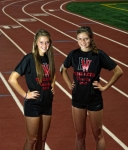 June 02, 2012
State meet is end of just one run for Harvard-Westlake seniors, Stanford signees.
By Erik Boal, Daily News Los Angeles
LOS ANGELES - Cami Chapus and Amy Weissenbach have traveled around the country and to France together in recent years to run against some of the best teenagers in the world, sometimes with not much more than running apparel, track spikes and each other's company.
But sometimes, the seniors also enjoy the simplicity of running together on a weekend or when school is out on the empty track that surrounds Harvard-Westlake's Ted Slavin Field.
"We can show up to meets more comfortable and confident when we are there together, because we distract one another when we need to and keep one another on task when it's time to focus," Weissenbach said. "But training together also makes summer training at our empty track fun."
Continue reading at: dailynew.com