Chicago's Greatest Miler Tom O'Hara: A Forgotten Hero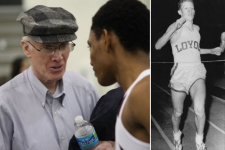 June 15, 2016
"If someone gives me a challenge, I try to beat them. That's the type I am."
By Justin Breen, DNA info
The greatest Miler in Chicago's history still loves to run.
Even at age 74 — 52 years after setting a world record that stood for 10 years — Tom O'Hara relishes a 30-minute jog around his local park.
"It's probably not even a 10-minute Mile pace anymore, but I'm not interested in that," said O'Hara, the former star at St. Ignatius College Prep and Loyola University Chicago. "I just still generally enjoy it. It's a real break for me."
O'Hara's times have gone way, way down since the Bucktown native became the first Illinois runner to break the 4 minute barrier, clocking a 3:59.4 in 1963. He set the indoor Mile world record at Chicago Stadium on March 6, 1964, clocking 3:56.4 — a mark he held until 1974.
Later in 1964, he made the U.S. Olympic team that competed in Tokyo, but he got the flu and didn't qualify for the 1500 meter finals.
"I was really disappointed because some of the competitors I know I could have beat," O'Hara said. "But that's just the way it is."
Former Loyola and current University of Illinois-Chicago track coach James Knoedel said O'Hara's Mile record at the time was "somewhat akin to the marks Jesse Owens set at Ohio State — unreachable."
But Knoedel said O'Hara would never brag about his times.
"Tom is a very quiet, unassuming person who had an inner drive that few people possess," Knoedel said.
O'Hara said he didn't know where his determination came from, but it was always there. When he was in second grade, he would race his sister and friends about a Mile from their home at Fullerton and Damen to St. Bonaventure School near Clybourn. He hated to lose.
"If someone gives me a challenge, I try to beat them," O'Hara said. "That's the type I am."
Continue reading at: dnainfo.com
NOTE: O'Hara passed away on August 27, 2019.