DJ Gallagher is national star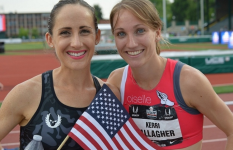 October 10, 2015
Any free time Gallagher does allow herself is spent with live Irish music. Since moving to D.C., Gallagher has attended Eileen Ivers's show in Virginia every year.
By Colleen Taylor, The Irish Echo
What do the 2015 IAAF World Track and Field Championships and Irish music have in common? As it turns out, a couple of things, but the most important of those is Kerri Gallagher. Gallagher, who qualified for Team USA in the 1500 meters and raced against the world's fastest women a couple months ago in Beijing, has always been a top-class athlete in the making. She led her team at Bishop Kearney High School and later earned the university-wide title of MVP at Fordham, which catapulted her to a professional training and coaching career at American University under Coach Matt Centrowitz. Historically, however, it hasn't just been the track for Gallagher. The Rockaway, Queens, native also moonlighted under another celebrity career for a time: Irish music DJ.
When she wasn't running around the Bronx, Gallagher was behind the mic at WFUV Radio as host of "Ceol na Gael" ("The Music of the Irish"), sharing Irish tunes with over 75,000 listeners in the greater New York area. She had a far bigger audience when she ran in Beijing, of course, but Irish music still grips the core of Kerri's identity, as well as her competitive drive. Irish music is both her pre-race adrenaline and her main social outlet. When I caught up with the star about her experience at the Worlds, she proved she's still an Irish music connoisseur. In fact, despite the fact that she came in third in the nation in the 1500, that she made her PR this year, that she took on world-class competition Beijing, Gallagher still said, "I think that day I hosted 'Ceol na nGael' with Eileen Ivers was the best day of my life."
Continue reading at: irishecho.com