Eccleston: That Wasn't My Last Shot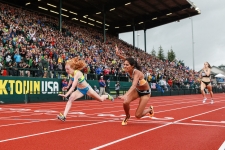 August 08, 2016
"We wanted to take advantage of the fact that we knew I was in incredible shape. You can't always show it in the rounds because they're little more tactical. So it's nice to just go and see it on paper."
By Jeff Hollobaugh, Track & Field News
The homestretch battle in the OT 1500 between Brenda Martinez and Amanda Eccleston produced one of the most powerful images of the meet, with both runners diving at the line in an effort to grab the final Rio berth.
When the screen flashed that Martinez had triumphed, the crowd cheered. She had understandably become a sympathetic favorite after meeting with disaster in the 800.
Not that the crowd cheered against Eccleston. More than anything, for many it was a case of "Who is Amanda Eccleston?" The 26-year-old Michigander shocked many with her 4th-place finish, and promised to be a force in the future.
Continue reading at: www.trackandfieldnews.com