From humdrum to well-done in one easy Mile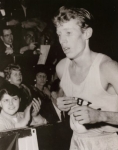 February 24, 1964
An ordinary winter on the boards changed to one of excitement and anticipation when Tom O'Hara shattered the world record in New York City
By Robert Creamer, Sports Illustrated
Tom O'Hara took five seconds less than a minute last week to turn what had been a rather humdrum indoor track & field season into one of roaring excitement. The pale, skinny, slump-shouldered kid from Chicago—standing around in a hotel lobby before a meet, he looks more like a bellhop than an athlete—sprinted through the last quarter of the Baxter Mile at the New York Athletic Club Indoor Games in Madison Square Garden in 55 seconds flat to set a new indoor world record of 3:56.6.
O'Hara had been sweeping Mile races all winter long, but his previous victories seemed, in retrospect, to have been little more than training exercises in preparation for the big one. At the Millrose Games in New York City in January, for instance, he followed John Camien closely through a 3:05.6 three-quarters before running a 55-second final quarter to win easily in 4:00.6. A week later, at the Los Angeles Times Games, he toyed with Jim Grelle, a sub-4 minute Miler himself, dawdling past three quarters in an amusingly slow 3:12 before opening that same old 55-second last-quarter sprint to beat Grelle by a dozen yards.
But in New York City last week the pace was sharper and quicker. It was perfectly suited to O'Hara. Tom lagged in last place for a while, running in his usual monkey-on-a-tightrope manner, his hands held rather high and away from his body, as though for balance. He moved up to second place after the first quarter and really began to pay attention to things when he heard that the half-mile time was 2:01.3. Ideas of a record began to form in his head. John Camien was setting the pace at this point and driving hard, but O'Hara was in complete control.
About 500 yards from home he hitched up his pants, a characteristic gesture he makes several times a race, to the delight of the fans, and went to work. He flipped past Camien. opened up a six-yard lead and, with slightly less than 300 yards to go, turned his sprint on full throttle. He ran away from Camien and the field (in two laps his lead lengthened from 10 to 65 yards) and all by himself raced toward the record, looking immensely strong and sure of himself. O'Hara never labored and when he crossed the finish line, running faster than he had at any point earlier in the race, he showed almost no sign of strain or exhaustion. He had run the last half mile in 1:55.3.
It was the first sub-4 Mile of the indoor season, and by two full seconds the fastest indoor Mile ever run. It was also an awesome demonstration of running power and notice to the world that the man to beat in the Olympic 1500 meters, metric Mile, next fall in Tokyo may be little Tom O'Hara instead of big Peter Snell, the New Zealander who holds the world outdoor Mile record at 3:54.4. Snell has been beaten this summer season in New Zealand, and no other world times, indoors or out, have come close to O'Hara's.
Continue reading at: si.com/vault