Gazelle Sports / adidas Elite Meet Brings Top Ranked High School Runners to Compete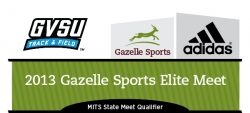 February 13, 2013
This Saturday, February 16, Grand Valley State University (GVSU) will host the Gazelle Sports / adidas Elite Meet at the Kelly Family Sports Center in Allendale, MI. This is the second year Gazelle Sports has partnered with GVSU to put on the high school track event as part of the Michigan Indoor Track Series (MITS). The meet begins at noon.
This year's meet will feature three "elite" events among other open-entry track and field events. The top nine finishers from the preliminary heats of the long jump and the 60 meter dash will compete in an Elite Final. The main event is the Elite Mile which will be a "true" mile distance (not 1600 meters), with a roster of invite-only competitors.
Ted Kushion, footwear manager for Gazelle Sports, is coordinating the events for the Elite Meet. "Last year, the Elite Mile was one of the fastest indoor 1600 meter fields in the country" said Kushion. "Several athletes finished the indoor season ranked top 30 in the United States with their times from the race, and this year's field is even faster with deeper talent," continued Kushion. "The girls' event should be one of the top two or three high school mile races in the country."
Included in this year's field are Connor Mora, Erin Finn and Hannah Meier. Mora, the top ranked boys' competitor and Cedar Springs native, has finished All-State nine times and competed in the Footlocker National Cross Country Championship this past season. Mora will be joining Finn next year as they compete for the University of Michigan. Finn, from West Bloomfield, holds the state 3200 meter record and the indoor national 5000 meter record. She also finished second at the USA Cross Country Championships in the junior race on February 2. Meier, from Grosse Pointe, is a five-time national champion on the track and holds the state record in the 1600 meter and 800 meter races. Next fall, she begins her collegiate running career at Duke University.
For a complete schedule of the Elite Meet events, visit GazelleSports.com/elitemeet. Event day coverage with results and recaps will be updated on the Gazelle Sports Facebook page throughout Saturday.
Contact: Ted Kushion, Gazelle Sports
tkushion@gazellesports.com or 616-940-2726