Give the English 1.6 Kilometers and They'll Take a Mile!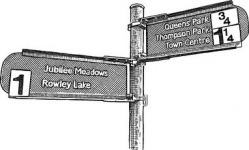 October 25, 2017
Members of The Active Resistance to Metrication launch 'raids,' brave arrest to convert signs to imperial measures
By Jenny Gross, Wall Street Journal
BURNLEY, England — Tony Bennett took Brexit preparations into his own hands at dusk one Friday this month, defying authority to reinstate a venerable element of British culture.
All it took was glue and stick-on numerals.
The retired lawyer crept through a park, he said, and up to a footpath sign. It read "1.5km."
Unacceptable!
He took a numeral and pasted it on to make the sign read, simply, "1." That's one Mile, one glorious British imperial Mile, rounding up a bit. No need to add an "m," Mr. Bennett said, because Britons would know what it meant.
"We have our own very excellent system of weights and measures," said Mr. Bennett, 70-years-old and not the American crooner. "We don't need big institutions in Europe telling us what to do."
Mr. Bennett is a member of Active Resistance to Metrication, a tiny group that has for years been pushing England to go back to its old weights and measures. Britain's planned exit from the European Union has breathed new hope into his campaign.
By the end of the night's "raid," as Mr. Bennett called it, he had plastered miles over kilometers—a Mile is 1.6 kilometers—on three signs in the park. He said he fixed 10 more the next day.
Continue reading at: wsj.com