Hanover's Zak is #1 in his class in the Mile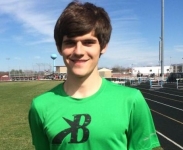 April 17, 2015
Wildcats' school record holder is also #1 in his class academically and plans to compete at Trine University
By Steve Hanlon, The Times
Nick Zak thought he was a baseball player. Such a dream is big in the Hanover Central school district. But something happened to Zak when he was in fifth grade that drastically changed his path.
The traditional crack of the bat on the diamond turned into something else for the Wildcats senior.
"I was sliding into second base and broke my leg," Zak said Monday. "That's when I knew that sport wasn't for me."
A year late, Zak met coach Chris York in middle school and it was like Steve Prefontaine running into the legendary coach Bill Bowerman at Oregon in the 1970s. Running long distances became the thing to do.
Heading into his senior season Zak holds Hanover's school record in the 1600 meters, the event that Zak advanced to state in last June's IHSAA finals.
"I was not good in middle school," he said. "But that was the challenge. I loved it. Trying to get better at something I wasn't good at. I just kept working at it. I did get better every year.
"But last year was when I had my breakout."
Continue reading at: www.nwitimes.com