How to Survive Running in a Pack—and Break Free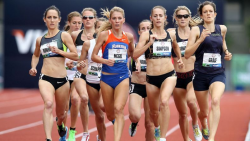 October 01, 2015
"It's tit-for-tat, so you're not making a lot of decisions. When they go, I go. When they slow down, I slow down. Finally, you're preparing for when you're going to strike. It's empowering to determine when to strike. It's a much more predatory position than leading a race and having to fend people off."
By Aimee Berg, espnW.com
Middle-distance racing is peculiar. Often, runners will bunch up and wait for someone else to push the pace, rather than take charge and run as fast as they can. Traffic jams ensue, and can result in elbowed ribs, trips, falls and -- this summer -- at least three lost shoes in major races.
At the U.S. nationals, American-record holder Shannon Rowbury got spiked in the left heel a third of the way into the 1500 meter semifinals. She ran a full lap with her white Nike flopping like a slipper before jettisoning the shoe with a lap and a half to go. She finished in a sock and qualified for the final. Two days later, Ajee Wilson lost her right adidas three-quarters of the way through the 800 meter final and made the World team.
And at the World Championships in Beijing in August, Jenny Simpson was vying for her third consecutive medal in the 1500 meter final when her left heel got speared with two laps to go. Her toes clung to the front of her green New Balance as long as they could, but finally, it flew off on the backstretch and she ran the last 650 meters on a completely bare foot. And when the competitors ran the final lap, the shoe was still lying in lane one, toes pointing at the infield.
Continue reading at: espn.go.com