Kai Benedict Finds Fortune in California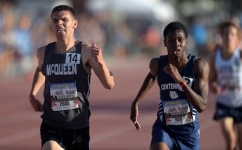 May 01, 2015
The high school senior set PRs in the Golden State, but has his sights set on Nevada titles.
By Marc Bloom, Running Times
Athlete: Kai Benedict
Year: Senior
School: McQueen High School
Location: Reno, NV
Mile PR: 4:09.16
3200m PR: 8:59.80
Key Workout:
Warmup consisting of a half-Mile jog, drills, dynamic stretching, core exercises, and agility work.
7 to 8 x 500-meter hill repeats, jog back down for recovery
Sprints of 300, 200 and 100 meters on the track
Cooldown of half-Mile jog, with stretching, drills and strength work
Kai Benedict of Nevada, one of the nation's fastest Milers, just completed a successful three-meet swing of prestigious California invitationals in preparation for the upcoming Nevada State Championship. While competing at the Stanford, Arcadia and Mt. San Antonio College (SAC) invites, Benedict, a McQueen High School senior from Reno, picked up big victories and personal bests against premier competition. Benedict practiced different race strategies, experienced running multiple events in two-day meets, and dealt with long travel days. The latter will help for his next meet—the Nevada state meet, May 15-16 in Las Vegas, is an eight-hour bus ride from Reno. Benedict will compete in four events, with hopes of compiling points for his McQueen team, which will attempt to repeat as the Division I team champion.
Continue reading at: www.runningtimes.com