Liberty Mile: Career Milestone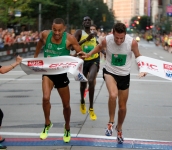 December 23, 2013
But most of all, for the first time as a professional I feel like I achieved the goal I had set out to accomplish without any possibility of a better result.
From Macklin Chaffee's blog
Another race I wish I had written about immediately afterward, but never had the opportunity to do so, was the GNC Live Well Liberty Mile in Pittsburgh last August. Fortunately, I have much stronger memories of this event than of most I've run.
I went into this race pretty pumped with my fitness level, specifically my raw speed (not many times have I been able to crack 25 in the 200m, but I was cruising multiple reps as a precursor to this event). The competition was going to be stiff, but my strategy was simple. Whereas in Charlevoix I was trying to blow out my tubes, and in Michigan I was shooting for time goals, here it was all about that finish line. Who was first and who wasn't. (Somehow, that perfectly innocent line, while appropriate if I didn't win, seems to take on an arrogant and egotistical twist in light of the result. I'd be lying if I didn't say I hope to have this problem more frequently in the future). The truly interesting note, for me, is that I swear I felt the same way going into USAs, tuned up and confident. Fortunately, the weather this time around was more to my liking, 60s and cloudy. And I continue to wonder if the weather truly makes that much of a difference for me. It's something that's definitely worth taking note of in preparation for future championships.
The friendliness, accommodation and hype leading up this race were every bit as inspiring as in Charlevoix or Ann Arbor, so come the 7:20pm gun time I was pumped up! My strides on the other hand were not as crisp as I was hoping for and I distinctly remember remarking that I wasn't feeling as explosive or well-rested as I would have hoped for on the warmup. Yet another reminder that my pre-race feeling has very little to do with my performance.
Gun goes off and I tuck right in behind the leaders. I had a few targets in this race and I knew the course quite well. The course was a horseshoe and the last 600m was a straight shot to the finish line and I suspected that a strong move would be made by Batty, Clark or McNamara sometime after the 1000m mark. If I was to have any chance I had to be right on the leader's shoulder when they move the FIRST time.
Continue reading at: http://macklinchaffee.com
2013 GNC Live Well Liberty Mile race story HERE.