London 2012 Olympics: The British Miler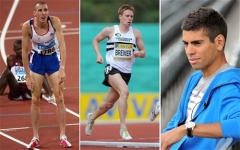 May 02, 2012
Courtesy of The Telegraph
LONDON - In the first of our exclusive videos tracking three British 1500m athletes in their attempt to qualify for London 2012, we look back at a distinguished honour roll of British middle-distance runners.
Britain has a rich tradition of success in middle-distance running with Seb Coe, Steve Ovett and Steve Cram heralded internationally for their achievements over the metric Mile.
But since their performances in the Eighties there has been a big void to fill, with no male middle-distance runner getting close to matching them.
Over the coming weeks Telegraph Sport will follow the fortunes of Andy Baddeley, James Brewer and Tom Lancashire as they seek to change that by first qualifying for the London 2012 Olympics and then mounting a challenge for the podium.
The series of videos will provide a behind the scenes look at their training regimes and the other aspects of their lives they must manage to be named in the 550-person Team GB squad for London 2012.
Continue reading at www.telegraph.co.uk